2009 Covert Ranch Late Season Bucks
For the past four years, while guiding our deer, dove, quail and turkey hunters at Doctor Charles Covert's 2,222-acre LaSalle County Ranch, in the Platinum Quadrangle of South Texas, I've been following a mainframe mid-190's 10-point buck that had multiple kickers.  The problem has been that I could never confidently age him because he was a small, short-bodied deer, and the native, free-ranging Texas bucks I have guided to for the past 25 years can weigh 200 to 250 pounds on the hoof.  This buck never had a live weight over 175 pounds.  Also, his social behavior was odd and peculiar.  In retrospect, although his horns were magnificent, when we thought he was a gullible four-year-old, he was already 6, and his immaturity had distracted us.
Last year, this buck was seen at his peak in three different territories.  My other guides and I were confused.  At first we thought we were seeing three different big bucks.  When we finally compared notes, in fact we had been seeing the same deer from different angles in three different places.  But we finally figured it out and we named this migratory buck the Mojado or Wetback Buck.  Of course, I've been too busy redesigning our website, linking to ttha.com and guiding our hunters every week this year to hunt very much myself.  Hunting a big deer in a target-rich environment is part of the compensation I get every few years that gives me the opportunity to take a super buck and once again prove the on-going trophy producing capacity of the ranch.  In past years, I have taken multiple contest-winning bucks, including a 13-point, 178 buck with a 7-inch drop tine and a 185, 15-point buck that holds the undisputed U.S. and Texas record for horn mass, with a total of over 48 inches of circumference measurements.
This year, the regular hunting season ended on January 18, 2009, when Doc guided one of our hunters to the fabulous 8 ½ -year-old, 16-point, 180-Class "Odom Buck" that had 3 drop tines on its left main beam.  Our hunter was overjoyed and we were gratified to end the regular season with the bang of the 7mm-.08 I loaned him and his well-placed shot.  I had to loan him my rifle because he arrived at the ranch with a newly scoped .270 rifle that couldn't hold a decent or respectable pattern after 7 shots at the ranch firing range.  Doc, after offering Bradley one of our rifles and watching him dry fire twice without flinching, said, "Bradley – I trust you, but I don't trust your rifle.  You can't hunt with that rifle on this ranch, but you can use one of ours."  We're firm, but we're fair.  Our hunters have to earn the privilege of hunting here by demonstrating sportsmanship, safety, marksmanship and gentility. We later referred Bradley to our gunsmith, Dustin Mount, and our ammo maker, Superior Ammunition, to help him resolve his equipment problems for future hunts.
After January 18, 2009, knowing it would be too late to enter this sneaky buck in many Texas deer contests, we were resigned to the fact that he had eluded me for another and possibly his last year.  However, on the morning of January 25, 2009, believing I had seen him briefly at dark the evening before, in a totally unexpected area several miles from any of his several former haunts, my guide, Doc, and I went back to pay him a final visit.
The Mojado Buck early appeared out of the frost-covered brush in the dim gray early morning light.  He was limping badly due to a severely injured left rear leg.  His side-body hair coat was three inches long and was scruffy and discolored and he painfully walked, slowly and stiffly.  He looked as if he had finally changed home territories once too often, to elude me, and some big-bodied local buck had held him accountable and had forcefully objected to this most recent relocation.  But despite his infirmities, he still held his head high.
Doc talked me through it. When the buck lowered his head, I calmly went off safety and shot him between his shoulder blades.  He dropped in place.  I use my Lady Smith & Wesson .38 caliber snub-nosed pistol to maintain my authority on the ranch, but I use my custom 7mm-.08 rifle on big deer.
After changing from my insulated camo jumpsuit into my starched and creased blue jeans and Coco Chanel hunting shirt and perfuming and coifing, we shot my post-hunt photography session with both digital and 35mm cameras and loaded the buck on a carrier behind the ranch's big white Denali.  We then went to the Los Cazadores Deer Contest Headquarters in Pearsall, Texas to drop the buck off at Mesquite Creek Taxidermy and pick up one of our recent hunter's deer sausage from Sou-Tex Sausage Company to take it to him.  It's all about service.
An envious bystander there instantly eyeballed my buck at 179 B&C.  Amazing.  This guy was really good at scoring deer, but he was otherwise not very bright.  He had just retreated from his deer lease in the war zone of the State of Tamaulipas, Mexico where he had somehow miraculously avoided being kidnapped or killed.  This guy should rewrite his last will and testament, increase his insurance coverage and get combat pay and free psychiatric treatment before renewing that Mexico lease next year.  On average, they're killing one American and more than100 Mexicans per week down there!  Kidnappings and Mexican-style incinerations and decapitations aside, what happens to this guy if he has a medical emergency in Mexico.  Then he's really got a problem.  I don't think they have the same EMS helicopter service down there that we do at the ranch.
I also scored the buck at almost 180 with over 26-inch main beams and 12+-inch G-2s and G-3s.  He had lost 10-15 inches of horn in the past year.  Trey Moore, the feed sales manager from the Los Cazadores Headquarters at Pearsall, aged him 9 ½ years old—exactly the age he appeared to us in the wild and what our ill-humored, .22 magnum toting cowboy and security patrolman, Dub Allen, tooth-aged him at the ranch.  Dub is backed up by the local game warden and the LaSalle County sheriff and 6-foot 6-inch tall former Texas Ranger, Joaquin Jackson, our security consultant, who is on call to take on special projects when our 240-volt electrified and razor-wired perimeter fence and Buckeye Cam wireless security cameras fail to dissuade the ignorant or criminal.  Gun control won't ever make it to this remote South Texas ranch.
Raul Molina at the Sou-Tex Sausage Company received the Mojado Buck and found the intact, but perfectly symmetrically mushroomed bullet under the buck's tail.  I had made my favorite shot – Pattie's "Reverse Texas Heart Shot"!  The 160-grain Barnes Triple Shock bullet had traveled from front to back, throughout the buck's body, lodging under his skin in the rear.  You know, I've been told that one of the sweetest things about me is my trigger finger.  And it can make a short and sweet lady seem pretty tall.
By the way, to make a point, another of our late season hunters recently took the "Watson Buck", an incredible 8-1/2-year-old typical, Roman-nosed, mid-160's chocolate-horned 10-pointer that was over 24 inches wide inside.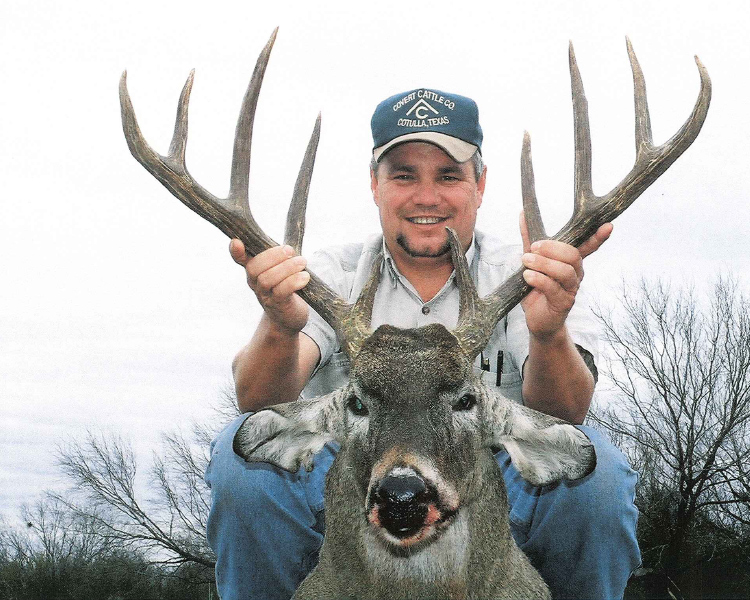 The Mojado Buck and the Watson Buck may not qualify for all contest awards this year because they were taken on our managed land permit (MLD), after the close of the regular season.  As a result, our prospective clients might not get the word that we took not one, but two 180-class, post-mature bucks in one late-season week this year and one superior 24-inch, 10-pointer.  But they do represent the best we have to offer—ethical, far-sighted deer management that allows big native Texas whitetail bucks to reach their maximum potential, to live to ripe old ages, to propagate for many years, and in the end, to be immortalized when their life's work is done.  And the Mojado Buck is probably the highest scoring 9 ½-year-old whitetail buck ever taken in Texas!
All the Texas statewide deer contests may want to consider extending their deadlines after the regular season to include bucks taken late under the MLDs so that super bucks like this year's Mojado Buck and the Watson Buck will get the recognition they deserve.  At the Covert Ranch, we hunt big deer from October 1 through the end of February which gives us flexibility to accommodate the schedules of our busy in and out of state clients.  If formerly ear-tagged genetically manipulated deer, bought at a livestock auction barn, pen-raised and later "released" on other ranches with different philosophies can now be legitimately hunted in various-sized enclosures and then entered in some deer hunting contests, why not accept the Mojado Buck and the Watson Buck. They deserve it.  And when you consider your options, why not take yourself or a guest on a hunt which will be consistent with your best business, family and personal ethics.  You have every right as a consumer to ask outfitters and ranchers you are considering hunting with whether or not the deer you will be hunting have been pen-raised and released so that you can make an informed decision and avoid possible surprise or disappointment if you discover an ear tag hole in the ear of what you thought was a wild native-Texas buck.
So, shortly and sweetly, I wanted to share with you that we have discovered after the MLD extended our hunting season that late season hunting can be very productive.  For us and for our hunters, it has been even more successful in producing nice, post-mature bucks as the rut was this year.